Yesterday, Bethany and I went to the Radiology department at Methodist Germantown to get some spine x-rays done .My surgeon wanted to take a look at how the fusion was progressing during this mornings appointment. He seemed to be generally pleased but not pleased enough to let me take the neck brace off for another four weeks.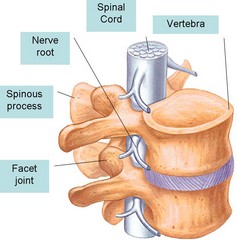 But today, was the first chance Delaine and I got to see the extent of the damage (modifications) he had to do to the vertebra to remove the tumor. The most obvious thing you see when you first look at the x-ray is the screws and rod he placed on the right side of C6–C7. Those are where he is fusing the two vertebra together because he had to destroy the facet joint on the left side creating a huge hole to gain access to the part of the tumor that was growing down one of the foramen tubes through which the nerve root passes to my left hand. Without that joint, my neck would be unstable. He could have put a rod and screws on that side too, but he wanted to be able to clearly see that area with another MRI that we'll do after three months. This is just one of those, "let's just make sure we got it all." moves before he pronounces me healed.
You know when you rub your fingers down the back of your neck, you can feel those bumps? Those are called spinous processes. They are rather large bony segments of your vertebra that muscles attach to to turn the individual vertebra and to protect the spinal cord. Well the surgeon had to remove four of those things (C4–C7) including the associated lamina to gain access to the biggest part of the tumor surrounding the spinal cord itself.
Now about how I feel, after looking at the x-ray, I can understand why I still have some neck, back and shoulder pain. All those muscles were involved in some way attaching to those bones he removed. (Don't ask me what they attach to now, I don't have a clue.) So I still take pain meds but only about half as much as I was several weeks ago. Thank You Lord.
So, now I seem to be plagued with some fairly minor problems that are kind of breaking through since the neck pain has subsided. I am having a lot of nausea and I don't know why. I am off all the antibiotics that can cause that. Of course the narcotics can cause that but I've been taking those for a long time now and have not had problems with nausea before. Could be just the chronic constipation associated with narcotics but there are plenty of over-the-counter meds to take care of that. Finally I am weak and don't feel like doing any kind of exercise. Basically the doctor says my physical therapy should be to go back to normal activity (walking etc) when I feel like it. I sure wish I felt like it.
My prayer:
Dear Lord,

Thank you for all you have done for me in this process of being afflicted, diagnosed, and repaired through a capable surgeon's God given abilities. Thank you for the prayers of all my brothers and sisters in Christ around the world. Thank you for my dear wife Delaine and my daughter Bethany who have sacrificed to take special care of me. Thank you for the improvement I have made thus far. Now I ask, Lord, that you help me to continue to heal. I know that no healing takes place apart from your divine providence and sustaining hand. I ask you Lord for a double measure of relief in the coming days. Give me strength, stamina and remove the nausea. You know Lord, I have a teaching commitment I want to keep starting next week. You have given me the ability to teach and have allowed me to make this commitment and I know you will provide the strength and well-feeling necessary to do this.