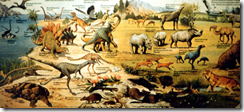 Normally when we think of evolution, we think of biological evolution. We think about man evolving from monkeys and birds evolving from reptiles. The typical progression is given from bacteria to fish to amphibian to reptile to mammal to man. As far-reaching as that is, the grand scope of evolution is even wider.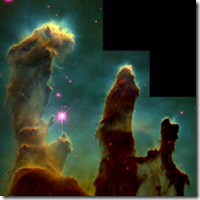 First we have stellar evolution which says everything started about 15 billion years ago with a singularity (nothing) exploding in a big-bang and producing all matter. The sub-atomic particles became hydrogen atoms which then gathered into clouds of gas due to the forces of gravity. Then by virtue of the heat of gravitational friction these increasingly dense clouds ignited on fire and coalesced into giant stars while grouping themselves into galaxies. The stars lasted for billions of years and finally burned out, collapsed in on themselves and exploded producing the heavier elements such as carbon, oxygen and iron. The particles resulting from the explosive death of stars went through similar gravitational coalescing and formed into planets, moons and eventually new stars.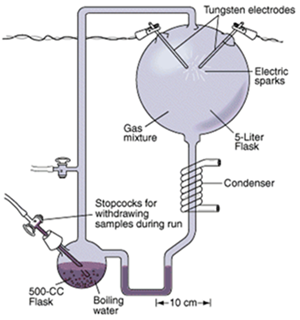 Next we have chemical evolution. Some of the planets formed during stellar evolution had sufficient amounts of water and atmospheres capable of supporting life. After millions of years of rain falling on the rocks created warm ponds of water, ammonia, methane and other chemicals. This primordial soup was struck by lighting creating amino acids. These amino acids formed chains of proteins which finally organized themselves into a self-reproducing bacterium, the first life.
So now we have something Darwin can work with, biological evolution. Life can now grow in to populations which can create offspring which may be slightly modified from their progenitors due to random mutations.
I hope you noticed the two biggest leaps in this story of evolution. The first jump was from nothing to everything. The second jump was from non-life to life. There other big jumps as well such as between the major kinds of life. It's one thing to consider evolution of a dog population into the various species. But it is a very different thing to imagine evolution between reptiles and birds or between amphibians and mammals. The most interesting things always seem to happen at the major boundaries of things. I find it easy to believe God is in these places.