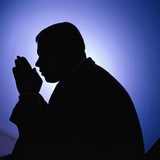 I have been praying for my own healing, imploring, asking, claiming promises. I hurt and I ask for God to remove the hurt. I need and I ask God to supply the need. I want and I ask God to make me happy. I work and I ask God to make me successful. I share my faith with another and I ask God to give the increase. I hear about others who need prayer and I intercede for them.
A couple of entries ago I spoke of Don Whitney and asked that you pray for his battle with cancer of the colon. Keeping up with his blog, I was very encouraged that he was able to preach last Sunday night. I am asking in a similar way that I be able to teach this Wednesday night. In the meantime, I've down-loaded some of his sermons on his site to listen to.
One of the sermons I listened to was called "The Motive Needed for Answered Prayer." I believe his message will have and already has had a profound impact on my prayer life. Using scripture to make his argument, he concludes that the chief motive for our praying to God for anything should be to glorify Him and His name. That means praying like this. Lord I am asking that you heal me of my current affliction so that your name might be glorified. But If your name would be more glorified by not healing me, then that is what I desire. That's how Jesus prayed in his darkest moment in the garden of Gethsemane hours before he was tortured and crucified. But Jesus taught us to always be concerned with "Hallowing" God's name first and foremost.
Psalm 37:3-4 (NKJV)

Trust in the Lord, and do good;
Dwell in the land, and feed on His faithfulness.
Delight yourself also in the Lord,
And He shall give you the desires of your heart.    
This has always been one of my favorite memory verses but I never have tied that delighting myself in the Lord was in essence the same thing as wanting to see Him glorified. That is God's highest motive and desire that He be glorified among the people.
1 Corinthians 10:31 (NKJV)

Therefore, whether you eat or drink, or whatever you do, do all to the glory of God.
The Westminster Shorter Catechism tells us that "man's chief end is to glorify God, and to enjoy Him forever." For me, these two scriptures form the basis of statement. So how do I tie this in to a prayer life that desires God's glory first and foremost above all my requests? I think Andrew Murray answers this well in his book "With Christ in the School of Prayer"
Desire for the glory of the Father is not something we can arouse and present to our Lord when we prepare ourselves to pray. Only when the whole life in all its parts is given up to God's glory can we really pray to Christ's glory, too. "Do all to the glory of God," and "Ask all to the glory of God." These twin commands are inseparable. Obedience to the former is the secret of grace for the latter. Living for the glory of God is the condition of the prayers that Jesus can answer.

Andrew Murray