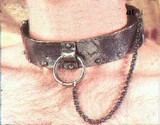 Wednesday, I was set free. Doc says I can go without the neck brace. Freedom is a wonderful thing but scary too I found out. I still walk around like I had the  brace on and I am scared to turn my head too much. It's weird, almost like I want to put it back on for comfort. Delaine tells me I snored last night too and I have not been snoring. I knew immediately what it was, my chin was being held up keeping my jaw from dropping which kept my mouth shut and kept me breathing through my nose. So now do I put it back on when I go to bed just to keep from snoring?
Ahh but I got to drive today…for the first time since driving to the hospital on Dec 13. (Except for that little emergency when Delaine got locked out of her car at Walgreens, about five minutes away, and I bravely drove to rescue her). Got my hair cut (great to visit with you Marilyn!), got Toby's bath done, and picked up my prescription. And I finally have a few new twenty dollar bills in my billfold. I found out something interesting, if you can't drive, you don't need any cash. I've had the same single five dollar bill in my billfold since my surgery. Now I'm flush with cash! (It goes fast).
Toby and I went for another long walk whilst listening to Rush. I took the twin walking poles and really tried to kick up the pace a bit. Oh, and by the way, I asked Doc about how much exercising I could do and found out all that (light)weight lifting I've been doing was a bad thing (because the vertebra fusion is still trying to take). So no more weight lifting for another month. But I can do all the walking I want to, so I figured I could at least get the arms in on the act with the walking poles. Besides they make you feel like an Olympic cross country skier.
The main thing is the Lord is good and his word is sweet and I am grateful to his healing hand on my body.
Proverbs 3:7-8 (NKJV)

Do not be wise in your own eyes; Fear the Lord and depart from evil.
It will be health to your flesh, And strength to your bones.
Speaking of being free from my neck brace, I have been freed from something else too. I have identified myself with Christ who died and was raised from the dead. So I reckon I am freed from sin's power over me and one day I will even be freed from sin's presence.
Romans 6:7-11 (NKJV)

For he who has died has been freed from sin. Now if we died with Christ, we believe that we shall also live with Him, knowing that Christ, having been raised from the dead, dies no more. Death no longer has dominion over Him. For the death that He died, He died to sin once for all; but the life that He lives, He lives to God. Likewise you also, reckon yourselves to be dead indeed to sin, but alive to God in Christ Jesus our Lord.