Genesis 1:31 (NKJV)

Then God saw everything that He had made, and indeed it was very good. So the evening and the morning were the sixth day.
I went backpacking with some wonderful friends this past weekend to the Richland Creek Wilderness area just north of Russellville AR. What a delightful trip and considering what I've been through, a miracle! God is good! Three Davids went (should have been four David D. :-) and Roxanne and Tiffany and Kyle.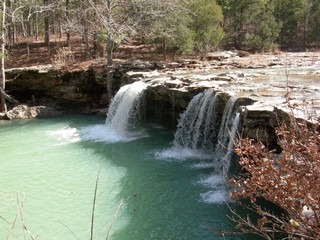 The water was high and so we could not make the second stream crossing like we had planned but no matter, the campsite we stayed at for two nights was delightful and we were close to a bend in the river with a beach and within a short (although rugged) hike to Richland Creek Falls and Twin Falls. It was cold the first night and the temp was in the low twenties when we woke up Sunday morning. We day hiked to the falls that afternoon and said our goodbyes' to Dave and Kyle who had to head on back home that afternoon. It rained in the middle of the night Sunday night and it was only in the thirties Monday morning. David S. and I determined that we could cross the stream at about thigh deep to go see the twin falls before we broke camp to head on back home. After a quick breakfast and finally some warm coffee after that cold crossing, we packed it up and headed out of the woods for the two mile trek and final stream crossing. The trail was wet and muddy in places so we gingerly scrambled over the rocks and narrow ledges and arrived at our car early afternoon. Two nights in the woods and base camping does not sound all that much but I was so encouraged and filled with gratitude for my friends who spurred me on and gave me a new start in backpacking adventures.
Check out the album on bubbleshare by clicking here. Dave and David, you can download a zip file of the pictures when you go to the album. They should be a decent size, but if there are any you want the fullsize original of, let me know and I'll email them to you.